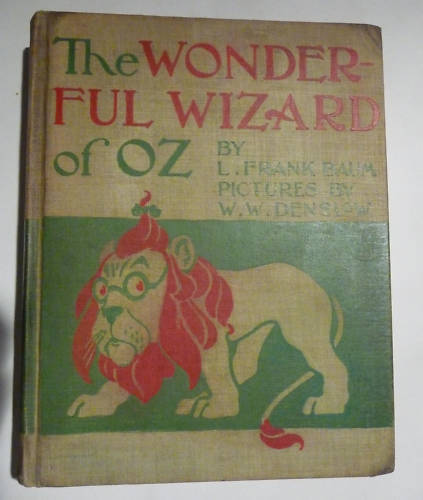 he all time childrens book can be yours and has the extremely rare B binding (with the O outside the C on the spine of Geo. M. Hill CO). A ONLINE DEALER IS SELLING THIS BOOK AND PLEASE COMPARE HIS BOOK TO THIS ONE. THIS IS THE NICEST EXAMPLE OF THE EXTREMELY RARE B BINDING FIRST EDITION, FIRST STATE ON THE MARKET IN THE WORLD TODAY. CHECK ABEBOOKS.COM ALSO.
CONDITION IS VERY IMPORTANT AND WITH THE UPCOMING 3-D WIZARD OF OZ MOVIES COMING OUT, THE INTEREST IN THIS BOOK WILL DOUBLE.
ONLY approximately 2,000 of these bindings were printed before it shifted over to the C binding (O inside the C on the spine).
1. back fixed endpaper printed in red and black, has a colophon of 11 lines of type surrounded by a printed decorative border
2. 24 color plates with plate 34 having two dots on the forehead of the moon (see pic) and red shading on the horizon on plate 92
3. no copyright date on verso of title page
4. peices (misprint) on page 81 and on page 14, has a misprint "low wail on and on page 227 has a misprint, While tin woodman...