New Starter Earl Clark on Lakers' Struggles: 'There Are No Excuses Now'
BY ON JANUARY 25, 2013
22
Use your

← →

(arrow) keys to browse more stories
Next
USA TODAY Sports
In one of the most devastating collapses in NBA history, the star-studded Los Angeles Lakers cross the midseason mark with a record of 17-25. This comes with two league
MVPs
, two Defensive Player of the Year award winners and six All-Stars on the roster.
According to starting power forward
Earl Clark
, there is no time for excuses or vindication. Everyone must hold themselves accountable. (via
HoopsWorld

.com
).
"There are no excuses now," Clark added. "We're almost at the All-Star break. It's time for us to just dig down and figure out what we want to do. Do we want to be a great team or just a mediocre team?"
That's the question that everyone in Los Angeles appears to be asking.
The Lakers are, on paper, one of the best teams in the NBA. Their starting five could go toe-to-toe with any legendary lineup and their talent suggests that L.A. should have reached the 30-
win
plateau at this stage of the season.
Instead, the Lakers are in danger of reaching 30 losses before they hit 20 wins.
Those victories broke a six-game losing streak. Since their two wins, however, the Lakers are 0-4.
The Lakers must stop making excuses and start improving upon their weaknesses.
Overcome the Injuries
The Lakers have been using injuries as an excuse for far too long.
Who is to blame for the Los Angeles Lakers' defensive deficiencies?
Even still, we can't help but wonder: how can't the Lakers win games with
Kobe Bryant
and, at least, one other superstar in the starting lineup?
This isn't a compilation of young stars on the rise. The Lakers have four of the most decorated players of this generation and can't seem to come together for a victory with the talent they possess.
Healthy or not, they're too talented for this to be true.
This team should be winning more than they're losing even with injuries and distractions. Subtract one superstar and you have three remaining.
A legitimate "Big Three."
Unfortunately, the Lakers have more excuses than they do wins. Until that changes, the results will not.
Move the Ball
There is something terribly wrong with the following statistic.
Thus far in 2012-13, the
Los Angeles Lakers
rank 17th in the NBA in assists per game. This comes with Steve Nash, the five-time NBA assists leader, running point for Mike
D'Antoni
's squad.
Whichever team Nash has played for for has ranked in the top 10 in assists in every season since 2003.
The fact of the matter is, the Lakers don't move the ball as well as they should. Their point totals are high, but they rely far too heavily on isolation sets and have yet to develop pick-and-roll chemistry.
Unless L.A. improves upon such deficiencies, the Lakers will
continue
to lose close games against quality opponents. As for their losses to the bottom feeders of the NBA, that's a product of playing down to their opponent's level.
In the same breath, we'd be remiss to ignore how much better this team would be by moving the basketball.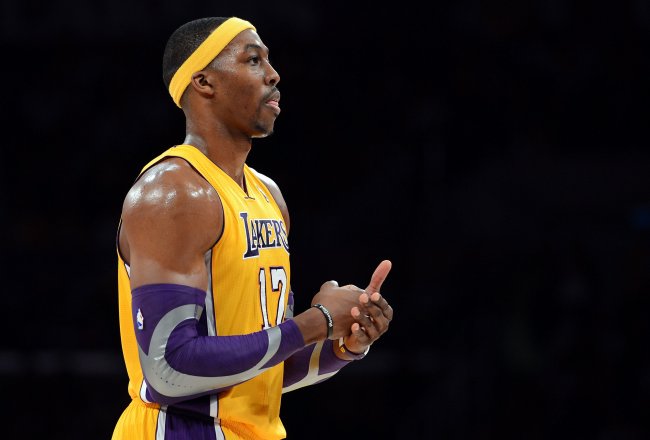 Dwight Howard has led an inferior cast to superior defensive results.
Harry How/Getty Images
Start Playing Defense
During the 2011-12 NBA regular season, Dwight Howard led the
Orlando Magic
to the seventh-ranked scoring defense in the league. D-12's supporting cast included Ryan Anderson, Jameer Nelson, Hedo Turkoglu and Jason Richardson.
In 2012-13, Howard's teammates include Kobe Bryant, Pau Gasol,
Metta
World Peace and Steve Nash. The Lakers rank 26th in scoring defense.
Let me know when you notice the improbable correlation between an improvement in talent and a decline in defensive quality.
In the previously alluded to
HoopsWorld
.com report, Earl Clark made comments about the defensive end of the floor. As the Lakers' effort guy, it's certainly refreshing to hear the youngster speak up.
Here's what Clark had to say:
"We have to stay ready on the defensive end – stay engaged and just play defense," Clark said. "We have so many offensive weapons and it's easy for us to score 100 to 110 points per game. But it takes dedication and constant will to stop the opponent because there are so many great players in the NBA."
And that's the bottom line.
The Lakers may be scoring 102.4 points per game, but they're also allowing 101.5. In other words, the Lakers can score as often as Mike
D'Antoni
would like to project—without defense, however, their efforts are meaningless.
We all know what the deficiencies are in Los Angeles. Will the Lakers make these rudimentary changes to improve their team?
If not, there are no excuses for such mind-blowing failure.

Los Angeles Lakers: Like this team?