Hellcat Fighter Plane Wreckage Discovered Off Miami Coast (VIDEO, PHOTOS)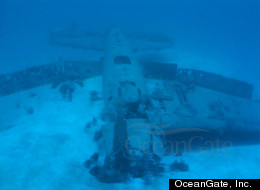 Members of a submarine crew sent to examine artificial reefs off the coast of Miami had the surprise of their lives earlier this year when they instead stumbled across a World War II relic.
Researchers in a deep-water submersible discovered a 28-foot long Grumman F6F Hellcat fighter aircraft, a WWII fighter plane, buried more than 240 feet deep.
"Of these only a handful exist today and the discovery of one more, even under 240 feet of Atlantic Ocean, is important to Naval Aviation History," the museum's director, Bob Rasmussen, said in a release.
RELATED ON HUFFPOST: